Blog
Mountain Top Living ~ Part 7: Blessed are the Merciful
September 17, 2021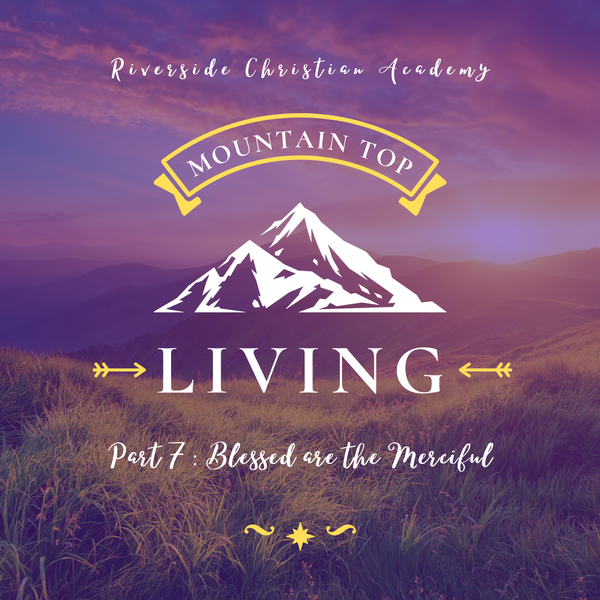 Blessed are the merciful, for they shall obtain mercy.

The saga over the throne of Israel finds no greater drama than the story of Saul and David. It is a history filled with victories, defeat, jealousies, friendship, violence, and surprisingly- mercy. We find David introduced to King Saul as a musician. David plays his harp to mercifully relieve the distressing spirit within King Saul. Over time, the relationship becomes strained with David's amazing victory over Goliath and his reputation as warrior eclipsing Saul's. It becomes apparent that God and the people of Israel are with David in his ascendancy to the throne. King Saul attempts to kill David many times, but his acts of violence are always returned in mercy. David says, "I will not stretch out my hand against my lord, for he is the Lord's anointed."
We find the apex of David's mercy to Saul's house in his treatment of Mephibosheth. He was the son of Jonathan and lame since the age of five and the last heir of King Saul. He was dropped by his nurse as she fled upon hearing the news of Jonathan and King Saul deaths (II Sam. 4:4).
King David asks, "Is there still anyone who is left of the house of Saul, that I may show him kindness" (II Sam. 9:1). Monarchs would normally dispose of heirs and scions of previous courts to prevent any regal claim or possibility of uprising. King David remembered his covenant with Jonathan and showed mercy to Mephibosheth (I Sam. 18:3, 20:14-17).
King David expressed the "kindness of God" to the house of Saul and gave Mephibosheth a permanent place at his table. The Hebrew word for kindness is hesed, which is sometimes translated as lovingkindness or mercy. Hesed was demonstrated by King David. It represents God's eternal goodness and covenantal faithfulness (Ex. 34:6,7). God's people are required to live this mercy out in our daily lives, "He has shown you, O man, what is good; and what does the Lord require of you, but to do justly, to love mercy (hesed), and to walk humbly with your God" (Micah. 6:8).
God has proclaimed his perfect hesed or mercy in Jesus Christ. The Apostle Paul state, "But God, who is rich in mercy, because of His great love with which He loved us, even when we were dead in trespasses and sins, made us alive together with Christ (by grace you have been saved)" (Eph. 2:4,5). God showed his mercy not to people who were merely lame but spiritually dead and invites us to the table of King Jesus. God has called us to extraordinary lives of mercy to friend and foe alike. James writes, "For judgement is without mercy to the one who has shown no mercy. Mercy triumphs over judgement" (James 2: 13). Albert Barnes was correct when he profoundly wrote, "Nowhere do we imitate God more than in showing mercy."