News & Events
RCA in the News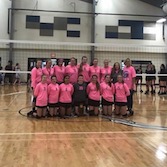 RCA's varsity volleyball team brought home its third straight Middle Tennessee Athletic Conference championship with a win over rival, Franklin Christian Academy. The Lady Knights finish the season with an overall 28-1 record, 9-0 in conference play. Over the past three years, the Lady Knights have only lost two conference matches.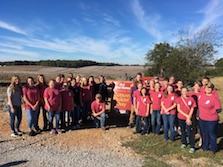 RCA's FFA students enjoy Old Time Cotton Pickin' Day at D&J Rivers Farm in Flintville, TN!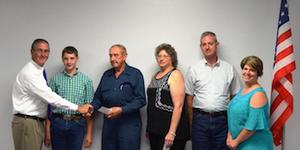 RCA RECEIVES A $150K GIFT FOR AG EDUCATION CENTER
August 2017
RCA has received a gift of $150,000 to build the Clardy-White Agriculture Education Center. The donation will allow RCA to build a greenhouse and a barn and provide additional hands-on opportunities for our students. Pictured during the donation presentation are (from left) RCA President James Bryant; Jimmy White, Charles H. Clardy, Daisy Clardy White and Jamie White, donors; and RCA's ag teacher Julie Burnum. Click here for the full story.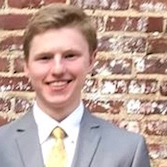 RYAN ELDRIDGE CHOSEN AS INTERN FOR SENATOR ALEXANDER'S DC OFFICE
August 2017
2015 graduate, Ryan Eldridge has been chosen to serve as an intern in Senator Lamar Alexander's Washington DC office this fall. During this internship, Ryan will be working with the Senator's staff in the Senate Committee on Health, Education, Labor and Pensions (HELP Committee) as well as in the Senator's personal office. Click here for the full story.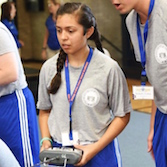 AMELIA BROWN CHOSEN TO ATTEND SUMMER EXPERIENCE PROGRAM AT U.S. COAST GUARD ACADEMY
August 2017
RCA Senior, Amelia Brown was selected to attend the U.S. Coast Guard Academy's summer experience program (AIM). Selection to AIM is based on leadership potential, personal character, academic and athletic achievement, and students' potential to contribute as a future cadet. AIM is now widely regarded as the most realistic service academy summer orientation program in the country. Click here for the full story.
LAUREN FIELDING REPRESENTS LINCOLN COUNTY AT WASHINGTON JOURNALISM & MEDIA CONFERENCE
August 2017
RCA junior, Lauren Fielding, joined a select group of students from all over the country for an intensive study of journalism and media for one week during July. Fielding was chosen based on academic accomplishments and a demonstrated interest and excellence in journalism and media studies. Click here for the full story.