News & Events
RCA in the News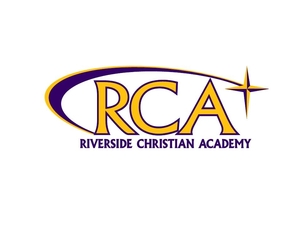 SEARCH BEGINS FOR NEW RCA PRESIDENT AS MR. BRYANT RESIGNS
February 2019
On Saturday morning, Riverside Christian Academy's governing board announced, with much sadness and regret, that James Bryant, RCA's President of nearly six years has resigned. During his tenure at RCA, Mr. Bryant oversaw many improvements, advocated for the school on many different levels, brought an overall increase in enrollment, improved student retention, and an increase in the number of donations for school operations and improvements.
"We are thankful for his years of service to the Riverside family, and wish him the best in his future endeavors," said Phil Cooper, Riverside Church Shepherd.
RCA's governing board is beginning an immediate search for a new school president; in the mean time, Cara Sain, RCA's principal, will serve as the interim head of school. Mrs. Sain has served in this capacity during times of transition in the past, and is qualified to continue the school's day-to-day operations until a permanent replacement is identified.
"God has blessed RCA with dedicated and caring faculty and staff. We have weathered difficult transitions before because of God's blessings on this ministry and the teachers and staff who continue to serve our students and families and put them first. Riverside has always been blessed with families that believe passionately in the mission of this school, and we trust that God will continue to bless us with their prayerful support. " said Dr. Kyle Spears, RCA's Board Chairman.
2018 VETERANS DAY PROGRAM
November 2018
Each year RCA honors our country's veterans with a special program and breakfast on Veterans Day. This year, RCA Parent Travis Lopeman did a great job delivering the message.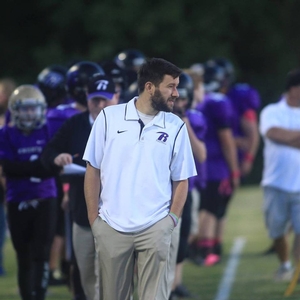 SUPPORT COACH CREASY
Travis Creasy, our Head Football Coach, Campus Minister & Bible Teacher has been diagnosed with Leukemia and RCA is collecting donations to help towards medical expenses.
Support Coach Creasy by Clicking Here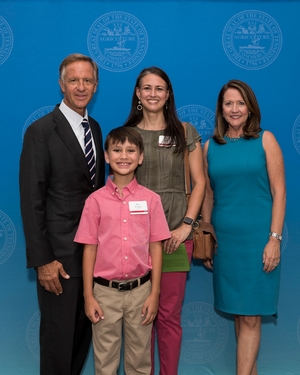 ELI PADGETT CHOSEN AS A TOP READER
September 2018
Eli Padgett was selected as one of Tennessee's Top 100 readers! Eli read over 2,000 minutes in his particiaption in First Lady Crissy Haslam's statewide summer reading competition.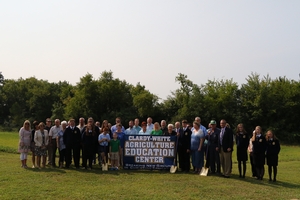 GROUND BREAKING CEREMONY FOR CLARDY-WHITE AG EDUCATION CENTER
August 2018
Riverside Christian Academy's faculty, staff, school board, students, and leaders from the community gathered with Mr. Charles H. Clardy and Daisy Clardy White to celebrate the ground breaking for the Clardy-White Agricultural Education Center on Monday. Construction will begin in two to three weeks; when the project is complete the Clardy-White Agricultural Education Center will include a barn and a greenhouse that will benefit RCA students for years to come.
"We are thankful for the many ways that God continues to bless RCA each day," said RCA's President, James Bryant.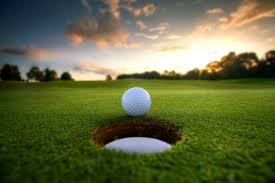 GOLF TOURNAMENT TO RAISE MONEY FOR SCHOLARSHIP FUND
August 2018
The family of Quatina Wolaver, a beloved RCA parent who passed away in 2017 from ovarian cancer, has established the Quatina M. Wolaver Scholarship of Hope. RCA friends can support the school by participating in and sponsoring the Scholarship of Hope golf tournament. For more information please click the informational link below. There are also links to print the registration and sponsorship forms.
Information
Registration Form
Sponsorship Form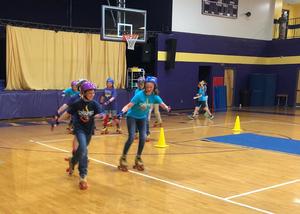 ELEMENTARY STUDENTS PE CLASS SKATING
April 2018
Riverside Christian Academy's elementary students enjoyed skating in the gym during their physical education class time last week. Susan Bryant, RCA's P.E. Teacher, taught Kindergarten through fifth-grade students basic skating skills during regular gym class. Mrs. Bryant taught students to skate while promoting safety. RCA's administration believes that it is important to promote fitness and wellness by providing challenging, fun learning activities in P.E. classes.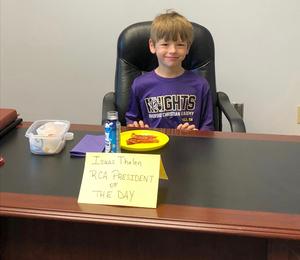 RCA PRESIDENT FOR THE DAY
April 2018
Meet Isaac Thelen, RCA's President for the Day! Isaac is in the first-grade; he will be helping Mr. Bryant with all of the school presidential duties today.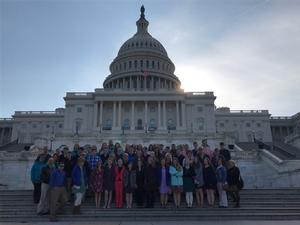 8th & 9th GRADE TRIP
April 2018

Sixty Riverside Christian Academy students, staff members, and parents traveled to Washington D.C., New York City, and Gettysburg last week, April 8-14. The group toured Arlington National Cemetery, Mt. Vernon, the Museuem of Bible, the Capitol including the House and Senate Galleries while they were in session, Ford Theatre, the National Zoo, the Lincoln Memorial, the Jefferson Memorial, the Vietnam Memorial, the Korean Memorial, the WWII Memorial, the 9/11 Memorial, Rockefeller Center, Times Square, and Gettysburg National Park. The group also attended a Washington Nationals vs. Atlanta Braves game while in D.C.
"This was a great opportunity for our students to experience firsthand our country's rich heritage and many amazing sights. Our nation was founded on faith in God and Christian principles that were evident in so many places we visited on our trip," said James Bryant, RCA's President.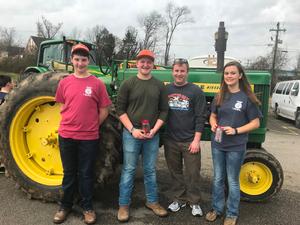 RCA FFA Chapter Participates in Inaugural National FFA Week
FEBRUARY 2018
Riverside Christian Academy participated in National FFA Week.
The chapter ended the week with RCA's first Tractor Day. Ten tractors were showcased by RCA FFA members and members of the community. Eighth-graders Jimmy White and Alex Thompson along with ninth-grader Levi Ogle drove their tractors to school.
Will Scott from Scott's Orchard recognized the Oldest, Dirtiest, and Biggest Tractors on hand as well.
The Riverside Christian FFA Chapter had a fun-filled week that also included a collection drive for the local animal shelter, chapter scavenger hunt, teacher appreciation treats, and a FFA Reads to Kids day. The FFA Chapter has 30 members on roll for their first year and is excited about what the future of agriculture at their school will include.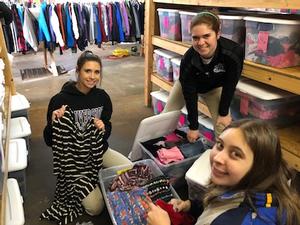 RCA STUDENTS PARTICIPATE IN COMMUNITY SERVICE PROJECTS
January 2018
RCA's dual enrollment students participated in two service projects during the week before their college classes began at Motlow State Community College. The students helped work at two community ministries: Hands of Mercy and Clothe Our Kids. At Hands of Mercy, the students loaded two trailers of food to be moved from a warehouse to First Baptist Church. The students also unloaded the food and shelved it in the benevolence pantry and packed over 200 backpack food packages for local children who do not have food on the weekends without the provision of school breakfasts and lunches. At Clothe Our Kids, the students moved clothing donations into the ministry's warehouse, helped sort clothes by size and season, and organized clothing bins.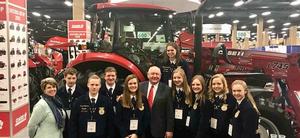 AMERICAN FARM BUREAU FEDERATION CONVENTION
January 2018
RCA's FFA officers went on a field trip to the American Farm Bureau Federation Convention in Nashville on January 8. President Trump also attended the convention where he pushed a rural agenda that he said would promote prosperity, and he urged the adoption of solutions by a task force, among them, increasing internet connectivity for rural America. RCA's FFA Officers are pictured here with the United States Secretray of Agriculture Sonny Perdue.